Abortion is wrong because God puts a soul in every embryo at conception, and a 1 week old fetus can be murdered like you or I. It's morally wrong or ambiguous because you are preventing the baby from becoming a conscious, unique person.
Preventing sperm cells while wearing a condom or abstaining from sexual relations is different because the egg cell and sperm cell have not yet joined to create a fetus or baby. If you do not want the responsibility of having a baby you should not have sex.
Powered by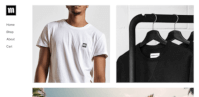 Create your own unique website with customizable templates.